Conference Agenda
Logistics
Related Papers & Speeches
Symposium on Financial Resilience
Sponsored by Wharton Financial Institutions Center and the Clearing House
Friday, September 18, 2015
Eighth Floor Conference Facility
Jon M. Huntsman Hall
The Wharton School, University of Pennsylvania
3730 Walnut Street
Philadelphia, PA
8:30am - 9:00am

Continental breakfast

9:00am - 9:30am

Opening Remarks: Framing the Debate

Richard Berner, Office of Financial Research


9:30am - 11:00am

Roundtable 1 - How should financial resilience be defined, measured and monitored?

Discussion Leaders:

Larry Neal, University of Illinois
Jing Zhang, Moody's Analytics
Stijn Claessens, Board of Governors of the Federal Reserve System
Greg Feldberg, Office of Financial Research
Viral Acharya, New York University
Moderator: Richard Herring, University of Pennsylvania

11:00am - 11:15am

Break

11:15am - 1:00pm

Roundtable 2 - What are the most effective policies to strengthen financial resilience?

Discussion Leaders:

Til Schuermann, Oliver Wyman
Tobias Adrian, Federal Reserve Bank of New York
Philipp Schnabl, New York University
Giovanni Dell-Arriccia, International Monetary Fund
Paul Glasserman, Columbia University
Moderator: Bob Chakravorti, The Clearing House

1:00pm - 1:45pm

Lunch

1:45pm - 3:55pm

Roundtable 3 - Looking ahead:What are the key obstacles to strengthening policies to enhance financial resilience? What research can be most helpful?

Discussion Leaders:

Don Kohn, The Brookings Institution
Christine Cumming, Former First Vice President of the Federal Reserve Bank of New York
Charles Calomiris, Columbia University
Mark Flannery, Securities Exchange Commission
Andrew Metrick, Yale University
Moderator: Richard Herring, University of Pennsylvania

3:55pm - 4:00pm

Closing remarks

4:00pm

Adjourn
Wireless Access in Conference Area:
Group Code for access to UPenn's wireless network, AirPennNet-Guest:
C-LPKDHLQW
If you encounter problems accessing the wireless network please try the following:

1. When on campus, open a web browser. Attempt to visit the www.upenn.edu homepage if you are not automatically redirected to the "Welcome to the AirPennNet-Guest Wireless Service" page.

2. Follow the 'Group Code' link.

3. Enter the Group Code.

4. Enter your name, phone number, and e-mail address and submit the form.

5. In order to complete the process, please wait a few moments and toggle your wireless adapter off and on and then reconnect to the AirPennNet-Guest wireless network. If the connection fails, or if you are redirected to the welcome page again, please reboot your device.

Directions and Parking:
For information on directions to Penn's campus, parking and transportation please visit the following page:
http://www.admissions.upenn.edu/visit/directions-and-parking
Campus Map:
Jon M. Huntsman Hall (3730 Walnut Street) is only a few minutes walk away from the Sheraton University City Hotel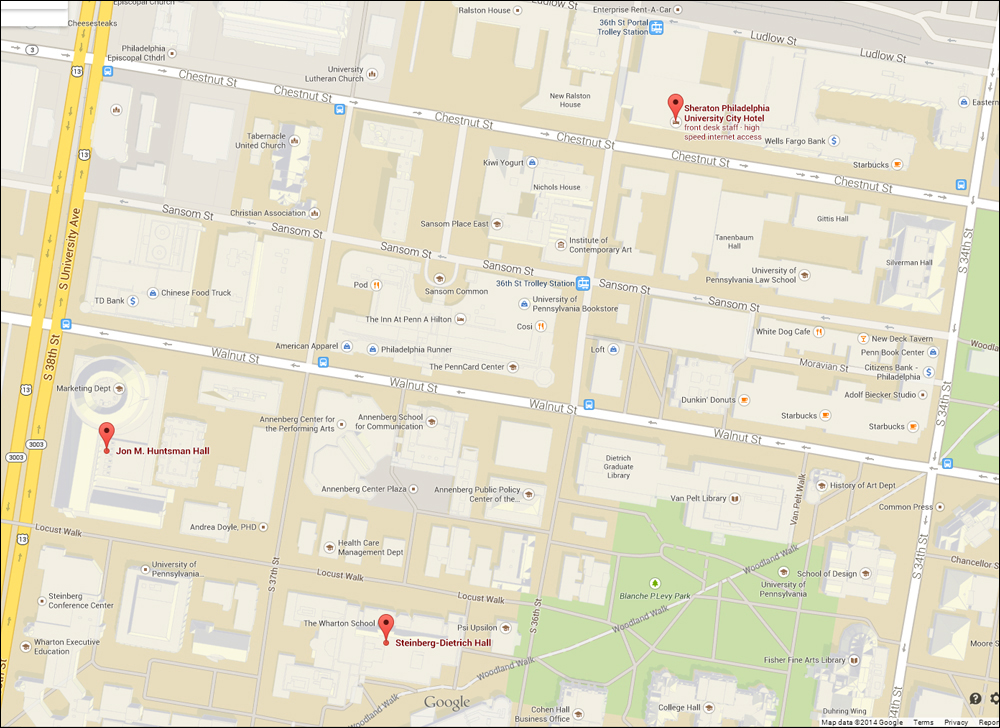 What's Wrong with Prudential Bank Regulation and How to Fix It
(Testimony Before the U.S. House Committee on Financial Services)
July 23, 2015
Charles W. Calomiris
Financial Stability Monitoring
Tobias Adrian, Daniel Covitz, and Nellie J. Liang
Monetary Policy, Financial Conditions, and Financial Stability
Tobias Adrian, Nellie Liang
Financial Stability Policies for Shadow Banking
Tobias Adrian
Liquidity Policies and Systemic Risk
Tobias Adrian, Nina Boyarchenko
Intermediary Leverage Cycles and Financial Stability
Tobias Adrian and Nina Boyarchenko
The Influence of Systemic Importance Indicators on Banks' Credit Default Swap Spreads
Jill Cetina and Bert Loudis
More Transparency Needed For Bank Capital Relief Trades
Jill Cetina, John McDonough, and Sriram Rajan
Incorporating Liquidity Shocks and Feedbacks in Bank Stress Tests
Jill Cetina
Stress Testing Banks (Feb 2013)
Final version appeared in 2014 in International Journal of Forecasting 30:3, 717-728.
Til Schuermann
Model Risk and the Rise of Modern Model Risk Management (Jan 2015)
To appear in Sara Breeden, Douglas Evanoff, Andrew Haldane, George Kaufman, Iain de Weymarn and Victoria Saporta (eds.), The New International Financial System: Analyzing the Cumulative Impact of Regulatory Reform.
Jeffrey A. Brown, Brad McGourty and Til Schuermann
Stress Testing Convergence (July 2015)
Final version appeared in 2014 in International Journal of Forecasting 30:3, 717-728.
German Gutierrez, Til Schuermann and Mike Duane.
Financial Crises Causes, Consequences, and Policy Responses
Edited by Stijn Claessens, M. Ayhan Kose, Luc Laeven, and Fabian Valencia.
A Concise History of International Finance: from Babylon to Bernanke (pre-order link)
Cambridge: Cambridge UP, 2015.
Larry Neal
I am not master of events'": the speculations of John Law and Lord Londonderry in the Mississippi and South Sea Bubbles
New Haven, CT: Yale University Press, 2012.
Larry Neal
The Cambridge History of Capitalism, vol. 1, "The Rise of Capitalism: From Ancient Origins to 1848
Larry Neal.
The Cambridge History of Capitalism, vol. 2, "The Spread of Capitalism: From 1848 to the Present
Larry Neal

Regulating the Shadow Banking System
Gary Gorton and Andrew Metrick
The Office of Financial Research website provides access to a large number of research papers and publications that investigate various aspects of financial resilience.  Key papers would include:
1.The Financial Stability Monitor: http://financialresearch.gov/financial-stability-monitor/. This document explains the methodology and provides a pdf link to the latest semiannual edition.
2. The monthly Financial Markets Monitor analyzing the stability implications of market developments: http://financialresearch.gov/financial-markets-monitor/
3.  A series of briefs on specific markets and data gaps: http://financialresearch.gov/briefs/ , two of which describe indicators for measuring systemic importance of banks (A Comparison of U.S. and International Global Systemically Important Banks and Systemic Importance Indicators for 33 U.S. Bank Holding Companies: An Overview of Recent Data).  They also include snapshots of two key markets: Repo and Securities Lending: Improving Transparency with Better Data and Private Fund Data Shed Light on Liquidity Funds.
4. A newly posted: Reference Guide to U.S. Repo and Securities Lending Markets.
5. A summary of the challenges of monitoring hedge funds: Gauging Form PF: Data Tolerances in Regulatory Reporting on Hedge Fund Risk Exposures
6. A paper exploring patterns connecting daily liquidity conditions to aggregate financial conditions, identifying possible predictors: System-wide Commonalities in Market Liquidity
7.  The use of market data to evaluate the systemic importance of firms: The Influence of Systemic Importance Indicators on Banks' Credit Default Swap Spreads and Are the Borrowing Costs of Large Financial Firms Unusual?
8. Chapter 2 of the 2014 Annual Report (pp. 5-44) provides an analysis of the Financial Stress Index described on page 25.
9.  Chapter 3 of the 2014 Annual Report (pp. 45-72) provides a broad overview of macroprudential policy: http://financialresearch.gov/annual-reports/files/office-of-financial-research-annual-report-2014.pdf
10.  A survey of the historical US experience with macro-prudential policy instruments: The History of Cyclical Macroprudential Policy in the United States